3 - Ferrara. The historic centre and the Jewish quarter
The Estense castle is the symbol of Ferrara, a fortress of 1385 built as a fortified palace to protect the Este family after a revolt in the city...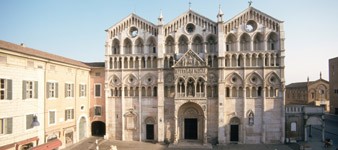 ...but quickly transformed into a residence and embellished with richly decorated state rooms. To the south of the castle is the oldest part of the city, including the area around the Palazzo Municipale (town hall) and the Cathedral, about which the life of the city revolves, and which includes the townscape between the cathedral and the old river port.
Here the urban fabric, to a large extent still intact, is easy to read through the streets around the famous Via delle Volte, with its most atmospheric corners.
Also in the mediaeval city is the zone of the former Ghetto, made up of what is now Via Mazzini, Via Vignatagliata and Via Vittoria. The building with the three synagogues still stands as a museum dedicated to the history of the Jewish community and the most important aspects of their daily life. The journey then shifts to the renaissance part of the city to visit the Jewish Cemetery, which extends across a green area beside the walls.






Travel time and technical features
Length: 4.260 km
Difficulty: level route along city streets, cycle paths and restricted traffic zones
Recommended period: all year
Itinerary locations
Information office
Main Tourist Information Office of Ferrara

0532 419190

infotur@comune.fe.it

http://www.ferrarainfo.com
last modified

May 08, 2023 04:55