The Eastern ring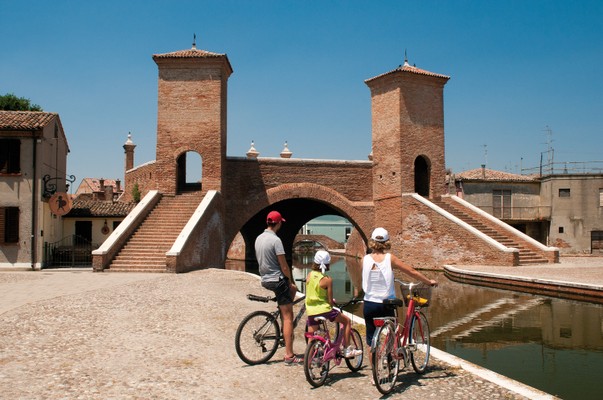 This itinerary includes a large part of the province to the east of Ferrara, connecting with large spirals the two towns: Ferrara, included in the UNESCO World Heritage, which experienced its period of greatest splendour during the Renaissance, and Comacchio, a lagoon city, with its monuments from the Baroque era and its nearby seaside resorts. To the north we run alongside the Great River Po in the most beautiful stretch of its race, the one towards its mouth: the placid waters reach the sea and you can follow through the lush countryside. Poised between unique landscapes and a rich ecosystem, this is a ride balanced on the delicate boundary between land and water, through continuous vegetation and birdlife varieties. Cycling towards the south, the large stretches of water of the lagoons counterbalance the woodlands and fields of wheat and rapeseed, until the return, passing and jumping from "Delizia" to "Delizia" and from Oasis to Oasis, to the beautiful city of Este, with its Walls, the cathedral, the monasteries and its beautiful Castle, the Diamanti and Schifanoia Palaces.
Travel time and technical features
A mostly paved long loop trail, with different types of routes. It is advisable to divide it into 2-3 stages.
Ferrara 44°50'12.65" N / 11°37'11.00" E

Ferrara 

44°50'12.65" N / 11°37'11.00" E

198,1 km
13h 12' (15km/h) 5h 39' (sport)

47% cycle path / 53% mixed traffic

86% paved / 14% unpaved


Garda-Adriatico, Bondeno, Ostellato, Cento, AdriaBike
Information office
Main Tourist Information Office of Ferrara

0532 419190

infotur@comune.fe.it

http://www.ferrarainfo.com
last modified

Feb 18, 2015 08:23