Ferrara - Bondeno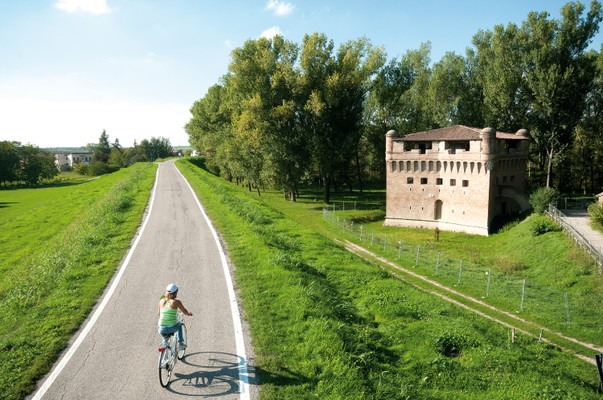 From the city of Ferrara towards the west, a beautiful exclusive bike path, fully tree-lined, running along the Burana canal. A true green corridor, through the vast landscapes of the Po, it touches the Delizia Estense of Diamantina, and reaches the town of Bondeno, and from here you can reach the Fortress of Stellata and the Po River.
Travel time and technical features
A short and easy trail suitable for all, flat, fully equipped with signs it runs almost exclusively on an entirely paved cycle path (FE101). The long stretch in the shade at the side of the Canale Burana can be covered even during the hottest hours. Pay attention to the road crossings to be made at the properly marked points. It is part of the "Ferrara-Bondeno-Ferrara" itinerary.
| | |
| --- | --- |
| | Ferrara 44°50'12.65" N / 11°37'11.00" E |
| | Bondeno 44°53'6.72" N / 11°25'4.90" E |
| | 18,6 km |
| | 1h 14' (15km/h) |
| | 88% cycle path / 12% mixed traffic |
| | 100% paved / 0% unpaved |
| | |
| | Destra Po, Garda-Adriatico, Ro |
Information office
Main Tourist Information Office of Ferrara

0532 419190

infotur@comune.fe.it

http://www.ferrarainfo.com
last modified

Feb 18, 2015 04:44