From Chioggia to Ferrara and Ravenna
A route down the northern Adriatic Coast between the natural wonders of the Po Delta Park and the cultural cities of Ferrara and Ravenna, passing Chioggia, Comacchio, Cervia and Mesola.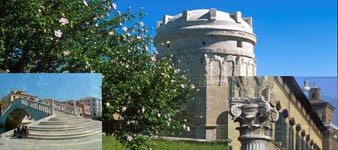 Chioggia - Porto Levante 38 km.
Porto Levante - Mesola 74 km.
Mesola - Ferrara 77 km.
From Mesola you can take a fascinating route deep into the rarified and sublime countryside of the Basso Ferrarese: after Jolanda di Savoia visiting Tresigallo and then proceeding up the course of the Po di Volano to the gates of the Estense city.
Ferrara - Argenta 50 km.
The route explores the area south of Ferrara, a peaceful succession of hamlets like Sant' Egidio, Marrara and Traghetto. The path goes as far as the lagoons of Argenta and Marmorta.
Argenta - Bagnacavallo 49 km.
Bagnacavallo - Riolo Terme 72 km.
Riolo Terme - Ravenna 76 km.
Ravenna - Cervia - Ravenna 82 km.
Ravenna - Comacchio 70 km.
Back on the coast, this section crosses the River Reno and skirts the Comacchio lagoons as far as the historic centre of that lagoon town.
Comacchio - Mesola 55 km.
From Comacchio we cross the Lidi northwards to the Bertuzzi lagoon and Pomposa Abbey, right up to the Estense Castle of Mesola.
Travel time and technical features
643 km. in 10 stages
last modified

Oct 08, 2015 09:57