2 - Ferrara. Where the river used to run
Once upon a time the Po ran to the south of Ferrara and lapped against a busy river port, a source of riches for the mediaeval city.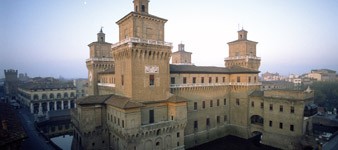 A series of floods in the 12th century moved the main stream of the river further north, and the Ferrara Po began to lose body, finally disappearing almost completely. In time a new quarter of the city grew up in this area.
The route unfolds through the south of Ferrara and crosses the centre of the mediaeval city with its famous monuments: the imposing Estense Castle, seat of the Este court until 1598, surrounded by a moat; the cathedral; Casa Rome; the refined Palazzo Schifanoia with its 15th century murals; the monastery of Sant'Antonio in Polesine; the Archaeological Museum and its Greco-Etruscan finds from Spina. After visiting the Church of San Giorgio, first cathedral of Ferrara, the route runs into the green zone at the foot of the wall. This antique stretch of curtain wall was radically changed in the latter part of the 15th century on the orders of Duke Alfonso II with the addition of three imposing bastions shaped like the Ace of Spades.



Travel time and technical features
Length: 9.010 km
Difficulty: level route along city streets, cycle paths and restricted traffic zones
Recommended period: all year
Itinerary locations
Information office
Main Tourist Information Office of Ferrara

0532 419190

infotur@comune.fe.it

http://www.ferrarainfo.com
last modified

Oct 08, 2015 05:40