Destra Po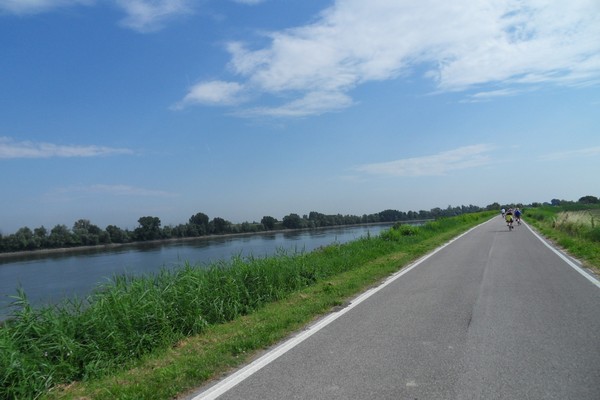 It is a route that runs along the river Po in its last 100 km towards the sea. It is one of the longest cycle paths in Europe and one of the most loved. Along the varied and spectacular route we find: the Fortress of Stellata, the Mill on the water at the flood plain of Ro, the bifurcation of the river Po at Serravalle, the Mesola Castle, the ports of Goro and Gorino up to the lighthouse. You can take boat trips on the Po or in the Sacca di Goro.
Travel time and technical features
Route mostly on the cycling path, flat and paved, whose difficulties derive from the length and full sun exposure. For this reason we recommend spring and autumn; during the summer it is best to take advantage of the morning and late afternoon. Do not forget: repair tools and a supply of water. Any type of bicycle can be used.
| | |
| --- | --- |
| | Stellata 44°56'58.58" N / 11°25'24.91" E |
| | Gorino 44°49'8.70" N / 12°21'2.64" E |
| | 119,5 km |
| | 7h 58' (15km/h) 3h 25' (sport) |
| | 76% cycle path / 24% mixed traffic |
| | 100% paved / 0% unpaved |
| | |
| | Ferrara, Garda-Adriatico, AdriaBike, Ostellato |
last modified

Jun 03, 2021 11:14