Modena - Ferrara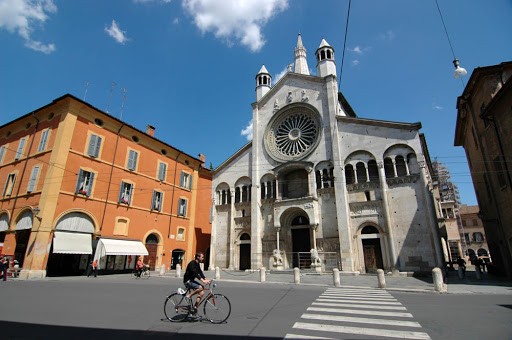 From Modena, a UNESCO World Heritage Site
, with its Romanesque Cathedral, the Ghirlandina and the 
arcades in the centre, exit east towards Ferrara, thus ideally combining the old Dukedoms, both dominated by the Este family and joined in history by the splendours of the great Renaissance culture. The path winds along certain sections of disused railway tracks and through the countryside, the land of Lambrusco and the so-called Motor Valley, home to major automotive brands (Ferrari, Maserati); following the Panaro up to Bondeno, you then continue on the path that runs along the Burana canal until it enters Ferrara.
Travel time and technical features
A simple, completely paved route that follows long stretches of exclusive cycle paths, parts of which are disused railway lines. The other sections are mostly along secondary roads with low traffic intensity. The second part is characterized by the presence of water: first it flanks the Panaro along the river embankment road for the stretch between Finale Emilia and Bondeno and, subsequently, the Burana canal, following the FE101 path up to Ferrara.
Modena 44°38'45.45" N / 10°55'31.77" E

Ferrara 44

°50'12.65" N / 11°37'11.00" E

83,7 km
5h 35' (15km/h)



Destra Po, Garda - Adriatico, Verona, Monaco
last modified

Mar 28, 2020 12:45