Valli di Comacchio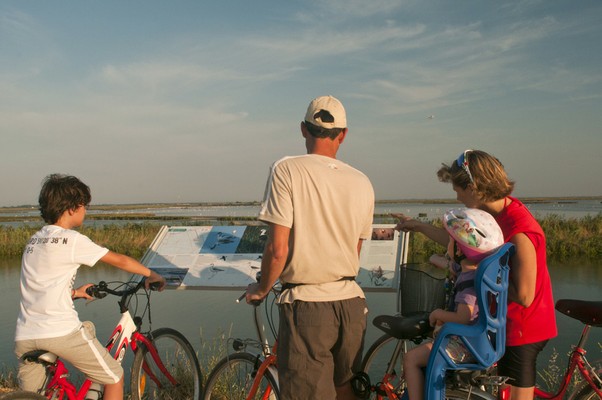 Starting from Comacchio, you ride along Valle Fattibello, up to the fishing hut Stazione di Pesca Foce, where we recommend a boat trip to visit the famous Casoni di Valle, a dispersed museum concerning the history and reality of the territory of Comacchio. You then proceed along the Agosta Embankment with water on both sides, searching for silence and peace whilst admiring grebes and cormorants, until you reach the south of the Valli di Comacchio, where the waters and fish farms are interrupted only by a strip of land, the peninsula of Boscoforte: a timeless landscape, pristine, still in its natural state, a true treasure chest of biodiversity (open by appointment).
Travel time and technical features
Short route, fully marked (FE30, FE417, FE40), mainly on paved roads and partly on gravelled cycle-pedestrian paths. The entire route is in full sun and exposed to a medium intensity wind during parts of the day. The passage of vehicles can sometimes be quite heavy on the Agosta Embankment road and we recommend you pay particular attention.
Comacchio 44°41'44.44" N / 12°10'53.84" E

Oasi Boscoforte 

44°32'58.47" N / 12°9'13.28" E

27,1 km
1h 48' (15km/h) 0h 47' (sport)

26% cycle path / 74% mixed traffic

74% paved / 26% unpaved


Ferrara, Pomposa/Mesola/Goro, AdriaBike, Argenta
last modified

Apr 16, 2020 04:27