The Argine degli Angeli
An embankment to contain the water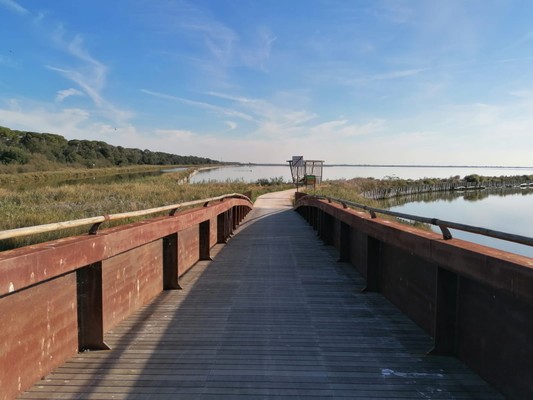 A new pedestrian/bicycle embankment links the Bellocchio Fishing Station and Volta Scirocco Oasis Station. This causeway is in the southern area of the Comacchio Lagoons, surrounded by the waters of the Lido di Magnavacca and Furlana Lagoons.
More than 5 km long, the route offers a unique look at the lagoons and an exceptional opportunity to observe them from an extraordinary perspective. Indeed, visitors immerse themselves in the serene yet fragile lagoon landscape by walking or cycling along the embankment. Thus, they will enjoy the sight of myriad seagulls and sea swallows, the white "angels" dwelling on the surrounding islets that have emerged from the waters.
The Argine degli Angeli owes its name to the "dosso degli Angeli", the large ancient sandbar that once emerged from the waters in this area. Consequently, it is an incredible opportunity to enjoy an enthralling experience enveloped in the embrace of an evocative natural landscape.
Embankment access is only by bicycle and on foot. In addition, if kept on a leash, our four-legged friends can accompany us through the two gates at either end of the path.
Seasonal timetables regulate when the gates are open: 20 March–20 September, 7:30 a.m. to 8 p.m., and 21 September–19 March, 8 a.m. to 5 p.m.
Access and entry times may change due to environmental needs, fishing activities, and adverse weather conditions.
Itinerary locations
Information office
Ufficio Informazione e Accoglienza Turistica di Comacchio
Via Agatopisto, 2/a c/o Settecentesco Ospedale degli Infermi

0533 314154

0533 319278

comacchio.iat@comune.comacchio.fe.it
http://www.turismocomacchio.it
last modified

Apr 20, 2023 12:45