8- Nature reserves on two wheels: from Ostellato to Argenta
From the Anse Vallive di Ostellato the route goes alongside the reclaimed land of the Mezzano, crosses the Bando Reserve and the Anse vallive di Porto and, after the Oasi Trava, reaches Argenta and its lagoons.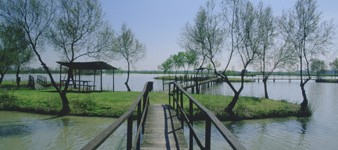 Much-prized nature reserves, the Anse Vallive di Ostellato wetlands are the departure point for this journey which runs mostly along the FE414 cycleway, which was named after the Ferrarese writer & journalist Bruno Traversari. The route visits the Anse Vallive di Porto and the Bacini di Bando before reaching Argenta.






Travel time and technical features
Length km 30.220
Difficulty Suitable for everyone. Level route mainly along cycle path (partly on dirt track). Some stretches along minor roads.
last modified

Dec 28, 2017 10:28