Palazzo Municipale
Begun in 1245, the City Hall was the residence of the Este family until the 16th century. The main entrance is through Volto del Cavallo, opposite the cathedral, and is flanked by two sculptures, copies of the original 15th century ones.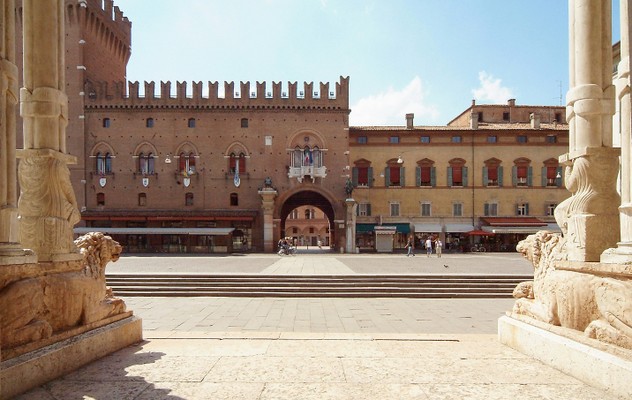 To the right, above an arch designed by Leon Battista Alberti, is a statue of Niccolò III d'Este on horseback; to the left, seated on a column, is his son Borso. The present-day facade is a neo-Gothic reconstruction that includes the Torre della Vittoria, where the bronze monument to Victory, a work of great value by Arrigo Minerbi (1918) is housed. In the courtyard of honour the architect Pietro Benvenuti degli Ordini began construction of the covered monumental staircase at the end of the 15th century. Once through the main door, two large rooms, still with remains of Renaissance decoration, are crossed before reaching a modern room which leads into the Stanzino delle Duchesse, which probably belonged to Eleonora and Lucrezia d'Este, the sisters of Duke Alfonso II.
Related documents
Opening
Working Days: 9.00 - 13.00; Tuesdays and Thursdays: 9.00-13.00; 15.00-17.00.
The Sala dell'Arengo and the Stanzino delle Duchesse can accommodate a limited number of visits on request.
Closing days
Saturday
Sundays and holidays
Contacts
Ferrara
-
Piazza Municipale, 2

0532 419301

http://www.artecultura.fe.it/...
last modified

Mar 09, 2022 11:29