The towers
In the mediaeval era the vicinity of Poggio Renatico, although still largely wetlands and woods, was fortified by the Bolognese with a line of towers and castles that allowed them to control both fishing and river traffic, as well as giving protection against the expansionist policy of neighbouring Ferrara.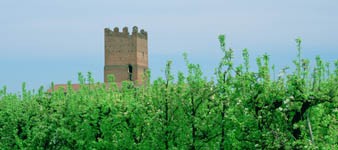 TORRE DELL'UCCELLINO Built in the 13th century it was once part of a castle surrounded by water. The garrison lost its importance when Alfonso d'Este, ignoring the protests of the Bolognese, took away the bell to be melted down for his cannons.
TORRE DEL COCENNO (Chiesa Nuova) Probably already in existence before 1250. Originally a watch-tower, it was restructured in the 14th century. The half moon windows under the cornice were used for sighting and firing guns.
TORRE DEL POGGIO Simple and austere, this too goes back to the 13th century. In 1963 during restoration works six frescoes were found on the external niches of the building, and these are now preserved in the State Picture Gallery in Ferrara. They form a cycle attributed to the Bolognese Amico Aspertini, one of the more original painters of the late Renaissance.
TORRE DELL'OROLOGIO Splitting the horizontal façade of the castle in two and the oldest part of it, going back to the year 900. Twenty-five metres high, at one time it was the site of the castle prison, and retains the strong wooden door with many iron bolts. It also houses an ancient clock mechanism.
Information office
Main Tourist Information Office of Ferrara

0532 209370

infotur@comune.fe.it

http://www.ferrarainfo.com
last modified

Oct 05, 2015 06:25