Museum of Casa Romei
Casa Romei is closed to the public until further notice.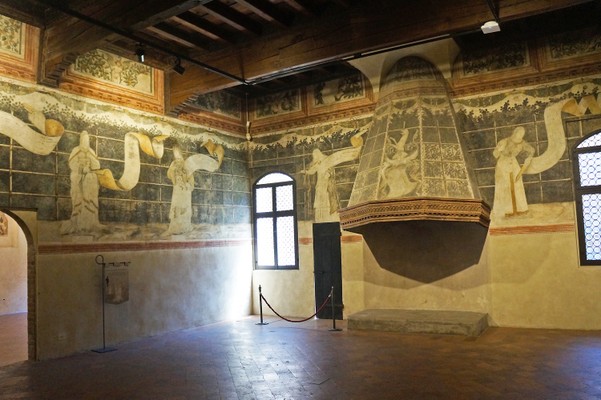 Giovanni Romei became administrator to the lords of Ferrara and married the princess Polissena d'Este. On the Via di San Francesco he had a house built that showed his high ranking

Today's visitor is immediately struck by the harmonious courtyard of honour, the result of combining medieval elements (the overhanging "baldresca" on one side) with others of the Renaissance (the arches that run along the other sides). The courtyard is dominated by a large monogram of Christ in terracotta, of very graceful design that belongs to the time in which, after Romei's death, the house became part of the adjacent Corpus Domini Monastery. Casa Romei houses an interesting museum of painting and sculpture, with works of art that come from many places that have now disappeared in Ferrara: in the Lapidary on the ground floor there are marble and brickwork friezes, sculptures, escutcheons and tombstones while on the first floor numerous frescoes removed from former churches can be admired.
Related documents
Opening
From Sunday to Wednesday 8.30 am - 2.00 pm
From Thursday to Saturday 2.00 pm - 7.30 pm
The ticket office shuts 30 minutes before closing time.
Price
Full Euro 3,00. Reduced 2,00 Euro (students 18-25).
Ticket with exhibition: full 5,00 €. red. 2,00€.
FREE ENTRANCE for the owners of MYFE tourist card

Free
Up to age 18
Disabled persons with one accompanying person
Tourist guides
Journalists
How to get here
On foot: 15 minutes from the Castle;
By bus: n° 1 e n° 9 from the station and from the Castle.
Accessibility
Partially accessible to people with disabilities.
last modified

Jul 13, 2020 12:24