Cathedral Museum
In compliance with the National Decree (March 8th, 2020), the Cathedral Museum will be closed to the public until April 3rd.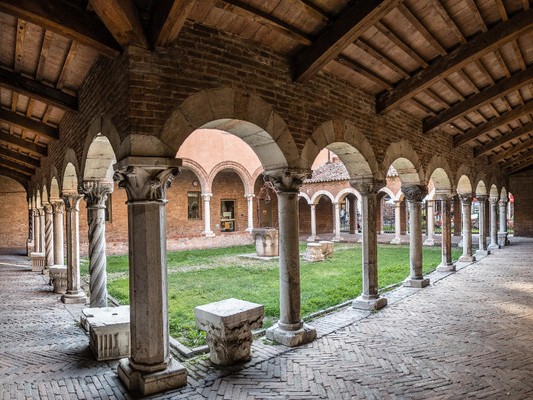 The Cathedral Museum of Ferrara is sited in the ex church of San Romano. It forms part of the Civic Museums of Ancient Art and mostly holds objects belonging to the Cathedral

Among these are the previous decorative panels of the organ, depicting the Annunciation and St. George and the Dragon, absolute masterpiece of Cosmè Tura, the master of the 15th-century Ferrarese school and the 13th-century panels from the Porta dei Mesi, the side entrance to the cathedral demolished in the 18th century. A rich collection of illuminated antiphonal hymnbooks, reliquaries, paintings and other works of art complete this interesting museum.
Related documents
Opening
9.30-13.00/ 15.00-18.00.
Price
Full 6,00 euro.
Reduced 3,00 euro (visitors over 65, groups 15 people).
FREE ENTRANCE for the owners of MYFE tourist card

Free
Up to age 18
Disabled persons with one accompanying person
Tourist guides
last modified

Mar 09, 2020 10:46