Museum of Palazzo Schifanoia
Extraordinary vestige of the splendour of the Renaissance period, Palazzo Schifanoia is the symbol of Este Ferrara. New itinerary is open to visitors (divided over 1400 square meters, 21 rooms, about 250 works of art), new layout, new lights and new museographic concept, developed with the aim of reconnecting Ferrara with one of the most important testimonies of its history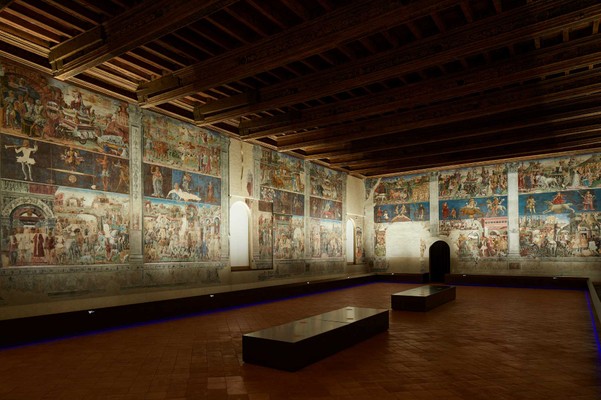 Built in about 1385-1391 as a suburban retreat 'to escape boredom' (in Italian, 'schifar la noia', hence its name), the palazzo was later expanded under Borso d'Este (1450-1471), who shaped the building in his image, rendering it sumptuous and unique, equal to Ferrara's high status in Europe at the time.
Likened to a "jewel set into a ring" and central to court life in the 15th and 16th centuries, Schifanoia then began a slow decline that changed its form and function, 
until the rediscovery of the Hall of the Months in the 19th century led to the transformation of the former suburban retreat into Ferrara's city museum in 1898. After an earthquake in 2012 and the architectural restoration that followed, the Museo Schifanoia is once again open to visitors, offering a unique immersive and
captivating experience.
VISIT
Visit path begins with the projection which reconstructs the building phases and conservation campaigns that have taken place at Palazzo Schifanoia over the centuries. Early maps of Ferrara help us to understand Schifanoia's position in the urban fabric. The other objects on display tell the story of the origins of the
museum: lapidary collection, made up of archaeological marbles; pieces of 15th Cent. graffito pottery; Pisanello's medals commissioned by Marquis Leonello d'Este; alabaster polyptych, masterpiece of English school; caskets decorated with bone and pastiglia.
The visit includes the main room of the Palace, the Room of the Months (with a new illumination system), the Hall of the Virtues and other 10 rooms of the fifteenth-century building, some of which  never open to the public: a journey through the age of Borso and Ercole I, the sixteenth-century splendor of Alfonso I and the autumn of the Renaissance.

The fourteenth-century part of the building is still closed for restoration and it will reopen next Autumn.

Opening
10.00-19.00 (Ticket office closes at 18.00). Closed on Monday.
Closed January, 1st; 6th; December 25th.
Price
Full 10,00 euro.
Reduced 8,00 euro (over 65's).
FREE ENTRANCE for the owners of MYFE tourist card
How to get here
On foot: 20 minutes from the Este Castle;
bus n. 9 from the Train Station.
Accessibility
Accessible to people with disabilities.
last modified

Oct 27, 2021 01:29