Town Hall
The "sumptuous palace" of Copparo which was commissioned by Ercole II d'Este in order to offer his court a pleasant place in which living was built around 1540-1547 probably by architect Terzo dei Terzi.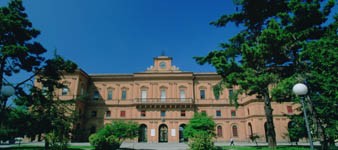 The "Delizia" of Copparo was built on the ruins of the palace which was previously destroyed by Venice people (1509). The palace had a rectangular plan and had sumptuous room with frescoes by Battista Dossi and the Garofalo. In 1809 a violent fire destroyed the palace which in the meantime had been given by the Estense family to the Papacy and subsequently to the Barberini family. It was restored around 1878 and used as Municipal Residence.
Contacts

0532 864511

http://www.comune.copparo.fe.it/...
Information office
Main Tourist Information Office of Ferrara

0532 209370

infotur@comune.fe.it

http://www.ferrarainfo.com
last modified

Oct 05, 2015 08:08