Este Castle
The Este Castle of Ferrara is an exclusive setting for meetings, concerts, ceremonies, conferences and all events. The monument that is the symbol of the city of Ferrara, the Castello Estense still conserves unmistakable features of its past as a fortress and the residence of the Dukes of Este: towers, gatehouses and drawbridges blend with smart little balconies and marble terraces. Extensive restoration works have recently brought to light structures dating back to the days of the mighty fortress and have brought back into use large rooms situated below the level of the courtyard. These rooms are large and full of atmosphere with their barrelled ceilings and terracotta floors which originate from their former function as store rooms and access routes to other places, such as the landing stage (which is why it is called "imbarcaderi" meaning landing stages) from which it was possible to leave the castle on board small boats or golden bucentaurs.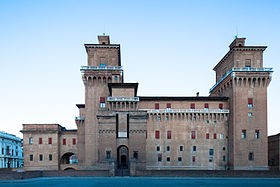 Contacts

+39 0532 299338

+39 0532 299279

castello.estense@comune.fe.it

http://www.castelloestense.it/...
last modified

Sep 07, 2015 11:46