Sanctuary of Celletta
The project of the church dates back to 1490. In 1607 it was transformed into a sanctuary by Marco Nicolò Balestri and Gian Battista Aleotti in 1606.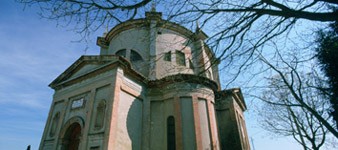 It was almost completely rebuilt in 1954 after war destructions. The church has an elliptical plan, with three entrances; inside eight columns mark the entrances and the altars. The main altar has a marble altar-piece with an immage of the Virgin Mary received into Heaven, attributed to Aleotti. The church retains the sepulchres of Balestri, Aleotti and of a famous scholar, Giovanni Mesini, born at Argenta in 1879.
Opening
Every day 8.00 -17.00
Contacts
Argenta
-
Strada Statale, 16

0532 804092
How to get here
In the outskirts of Argenta, along SS. 16 to Ravenna.


last modified

Nov 14, 2016 11:37