Cappelletto Festival
Folklore and festivals
Every year, Vigarano Pieve celebrates the king of Ferrarese cuisine: the delicious "cappelletto"!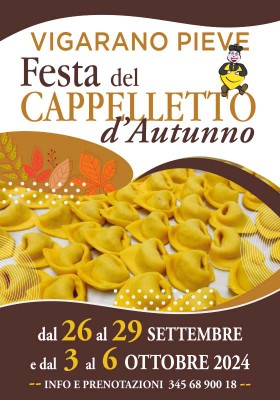 The "Trattoria dell'antica Pieve", always open in the evening, presents some typical dishes of the Ferrarese tradition. Symbol of the event will be the delicious "cappelletto", and "salamina da sugo" will also be in the spotlight.
MENU
Starters: Sliced salami and "Pinzin"
First courses: Cappelletti (with truffle, with broth, with cream sauce or meat sauce) - Cappellacci (meat sauce, butter and sagera) - Passatelli with truffle
Second courses: Grilled meat, "Castrato" meat, "Arrosticini", Salamina with mashed potatoes, Meat with truffle, "Tagliata".
Side dishes: Fried potatoes, grilled vegetables, mashed potatoes, salad.
Selection of Desserts
Where
Vigarano Pieve - Campo parrocchiale, Via Mantova 120
When
From June, 14th to June, 23rd 2019