Palazzo Pio di Tresigallo
Renown for its Rationalistic architecture, Tresigallo is also home of a XVI Century Palace, probably built as a hunting reserve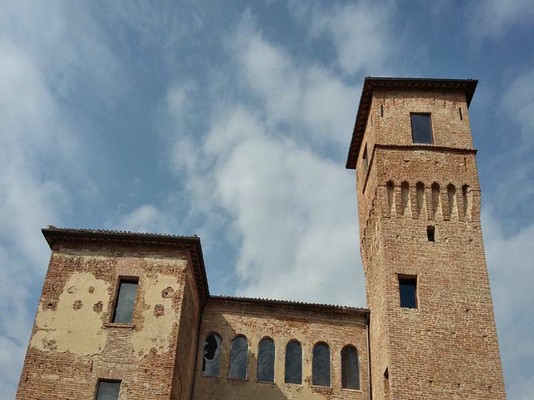 Tresigallo was an ancient Mediaeval centre in the vicinity of Ferrara, in the flat fields crossed by the Po di Volano. Between 1517 and 1531, the noble Alessandro Feruffino "magnificent and munificent knight", had his palace built inside "La Motta" estate.

He served Alfondo I d'Este as a captain, and he later was Giudice dei Savi for the municipality of Ferrara. His possessions in the Tresigallo area came from the properties of his wife, Caterina Machiavelli Dalle Frutta, daughter of Gaspare, whom Ercole I d' Este sold many lands. Both Alessandro and Caterina were important characters in the areas of Tresigallo, Roncodigà, Final di Rero and Cornacervina. In his last will, Feruffino gives his daughter, Ippolita, his land and buildings in Tresigallo: this document is very important because it states the existence of a "palazzo", and the lands of "Perarolo" and "Mota", the woods of "Lamia" and "Zucha", and the lands up to Brazzolo.
It is not possible to know anything about the original building, which changed a lot during the centuries; in 1622 the Gualengo family got the estate, and afterward it passed to the Cardinal Carlo Pio. After his death, Prince Luigi Pio and then his nephew, Francesco Pio, inherited the land, even if they no longer lived in the area.

After the extinction of the Pio family, the building passed to the Falcò family, then to public administration. After many years and changes, the palace was bought by the Monesi family, then to the Matteucci Brothers. In 2009, the municipality of Tresigallo finally bought the historical building.
Opening
The palace can be visited during special events.
Contacts
Via del Mare 277 - Tresigallo

0533 607711

0533 607710

http://www.comune.tresigallo.fe.it
last modified

May 30, 2019 12:02