Oasi di Porto Trava
The Trava Oasis is made up of a series of islets linked by wooden bridges.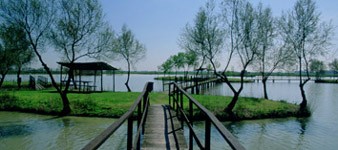 Various archaelogicla finds have been discovered around Trava; at this point the ancient branch of the Padòa river flowed, upon which the Portoverrara and Portomaggiore settlements arose. Whithin the Oasis, which extends for 11 hectares enclosing a seven hectare mirror of water, there are various basins, among which the Smaltara basins is of particular interest.
Here you can find itineraries for children, angling sites and picnic areas.
Opening
From April to October. Sunday and holiday, from 7am to 6pm
Contacts
Portomaggiore
-
loc. Trava

338 2516497
Information office
Main Tourist Information Office of Ferrara

0532 419190

infotur@comune.fe.it

http://www.ferrarainfo.com
last modified

Oct 19, 2015 11:00