Teatro Nuovo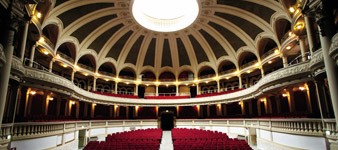 Teatro Nuovo Ferrara is the ideal place for those who want to organize a corporate event, a scientific conference, a cultural event in a beautiful hystorical location. Located in the hystorical city center of Ferrara, in front of the Duomo and close to the Estense Castle, the Theater holds more than 800 people, was born in the early years of XX sec., with interior decorations of the late Liberty style.
TECHNICAL DETAILS
Teatro Nuovo Ferrara presents a circular shape and constists in three orders of overlaying lodges.
The total capacity of the public is 807 seats, distributed as:
- 397 stalls seats;
- 2 seats for disabled people on a wheelchair;
- 211 first tunnel seats;
- 197 second tunnel seats.
Technical details of the Theater:
- Stage: 18x15 m.
- Multirama screen: m 14x7,5.
- 2 metallic trulls: m 11,5.
- 3 aluminum joists: m 12,5.
- Trellis: height from the stage m 18,5 (taller than the other theaters).
- 8 + 4 theater stage: m 7,5x3.
- 4 black cloth skies: m 12x3.
- Black cloth  backdrop: m 14x7,5.
- 8 front headlights (Watt 2000).
- 12 Mixer channels.
12 Dimmer channels.
- Electric panel.
- 4 hoist engines DIVO D.8 PLUS.
- Backstage (sq.m 100).
Adjacent rooms:
- Lighted tunnel entrance with 14 showcases.
- Foyer for many uses (pressroom, buffet, entertainment).
- Reception hall.
- Wardrobe.
- Bar.
- 4 dressing rooms beside the  stage, 2 large dressing rooms, 3 single dressing rooms.
last modified

Mar 18, 2017 09:52