Ferrara in Jazz
Music
From October to April the Torrione San Giovanni, a splendid round tower along the Renaissance city walls, becomes a venue for jazz lovers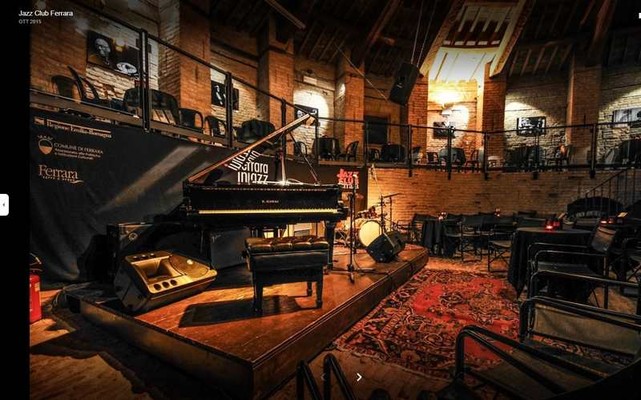 Since 1999, the Jazz Club is hosted by the beautiful Torrione di San Giovanni, which is a part of the city walls. There, it is possible to enjoy about 70 concerts, from September to late April.
Many important characters of the international jazz panorama have played there, making one of the best European jazz clubs out of it.
Many collaborations have been organized in the last few years: with Ferrara Musica, Ferrara Arte, Conservatorio G. Frescobaldi, Memorial Mirto Govoni, Crossroads - Jazz e altro in Emilia-Romagna and Bologna Jazz Festival.

On stage the major interpreters on the national and international scene give this place the typical atmosphere of the classic jazz clubs.
Timetable
Friday January 20th, h. 21.00
Helio Alves, piano - Nilson Matta, double bass - Duduka Da Fonseca, drums
Saturday January 21st, h.21.00
Kurt Rosenwinkel & Jean-Paul Brodbeck The Chopin Project
Kurt Rosenwinkel, guitar - Jean-Paul Brodbeck, piano - Lukas Traxel, double bass - Jorge Rossy, drums
Sunday January 22nd, h.21.00
[Silk-Tonal] edited by Instant
Marco Centasso Quartet 'Hidden Rooms'
Alberto Collodel, bass clarinet - Giovanni Mancuso, piano - Marco Centasso, double bass - Raul Catalano, drums
Friday January 27th, h. 21.30
On the occasion of Remembrance Day
Admah Hotel 'Jewish Composers, American Music'
Claudia Bidoli, voice - Enrico Terragnoli, guitar - Zeno De Rossi, drums.
The Jazz Club Ferrara offers a journey into the music of American composers of Jewish origin: from Bob Dylan to John Zorn, Lou Reed, Simon and Garfunkel, Leonard Cohen and Philip Glass.
Saturday 28 January 28th, h. 21:00
In collaboration with Crossroads – Jazz and more in Emilia-Romagna
Gianni Cazzola Quintet feat. Charles Acts
Carlo Atti, tenor sax - Marco Bovi, guitar - Nico Menci, piano - Carlo Bavetta, double bass - Gianni Cazzola, drums
Sunday January 29th, h. 21.00
[Silk-Tonal] edited by Instant
Pasquale Paterra Trio 'Images'
Pasquale Paterra, trumpet, flugelhorn and effects - Giovanni Bertelli, guitar - Fausto Negrelli, drums
Where
Jazz Club Ferrara - Torrione San Giovanni - Via Rampari di Belfiore, 167 - nei dispositivi GPS impostare indirizzo: Corso Porta Mare, 112) Ferrara
Price
Ferrara Jazz Club is linked to Endas association: it is necessary to own a guest pass, in order to enter the club. It is possible to get a guest pass before the events.
Contacts
Jazz Club Ferrara - Torrione San Giovanni - Via Rampari di Belfiore 167

331 4323840 info e prenotazione cena, attivo tutti i giorni dalle ore 12 alle ore 22.

jazzclub@jazzclubferrara.com