Palio of Ferrara 2023
Folklore and festivals
A month of celebrations, parades, flag-throwing competitions and a spectacular horse race in Piazza Ariostea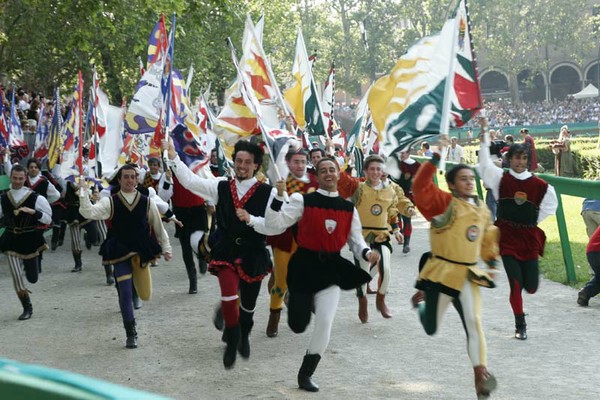 The Palio was made official in 1279 and rapidly transformed into the symbol of a glorious and fascinating Renaissance.

Since then rituals and dates have only changed slightly, celebration in the town has not been altered. A month of celebrations, parades, races and competitions between the eight Contrade [quarters tied to the parish] to win the precious drape dedicated to Saint George, the patron saint of Ferrara.

The already warm month of May welcomes the figurants in original costume who parade through the streets of the city centre and the hard-fought flag-throwing competitions in Piazza del Municipio take us up to the spectacular horse race in Piazza Ariostea.
Where
Ferrara, centro storico e Piazza Ariostea
Contacts
Ente Palio città di Ferrara - Corso Porta Reno 11 (Torre dell'Orologio)

0532 751263

0532 752207

info@paliodiferrara.it