Jewish Ferrara
Exhibitions
Jews and Ferrara, a long and very deep relationship. A well-known history, which will be explained at the MEIS Museum until March 2020.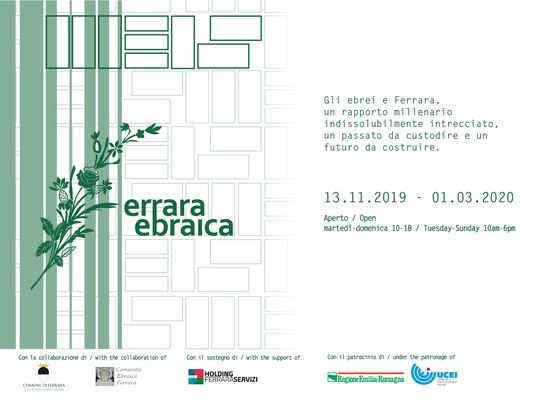 The exhibition takes the visitor on a journey through time, between the history lines of the Jewish Community in Ferrara, and it will be open to the public until March 1st, 2020. The organization has been possible with the help of the Municipality of Ferrara and the Jewish Community, and with the patronage of Holding Ferrara Servizi, the Region Emilia-Romagna, and the Union of the Jewish Community in Italy.
"Jewis Ferrara" tells the story of a community in the city, and it does it through traditional objects, which here are explained and documented: from the Talled (the scarf used by men for morning prayers) owned by Rabbi Leoni, the man who tried to stop the fascist distruction in the Synagogue of Ferrara, to the famous Finzi shop, a great reference point in the city.
The documentary film, with the contribution of the Contemporary History Institute of Ferrara – ISCO – and the interviews by Ruggero Gabbai will complete the tale of a still living experience, and of a city with a past to protect, and a future still to build.
Timetable
Guided tours on Saturdays and Sundays, 3 PM- Meeting point at the Ticket Office, 2,45 PM.
Guided tours fees(ticket not included): €5,00 per person, free up to 6 years-old.
Where
MEIS - Museo Nazionale dell'Ebraismo Italiano e della Shoah - Via Piangipane 81 - Ferrara
When
From Novembre 13th, 2019 to March 1st, 2020
Opening
Tuesday – Sunday from 10.00 AM  to 6.00PM. Monday closed.
Price
Full price: € 10,00; reduced: € 8,00 (6-18 years-old, university students, MyFE Card owners);
€ 6,00 groups with a minimum of 15 people, (each 20 people, one gets in free), and families with 1 adult plus one minor (6-14 years-old).
€ 5,00 school groups and university group (with a minimum of 15 people, from Monday to Friday, 2 teachers per group get in free)
Free entrance: children under 6 years-old, 100% disabled people with one accompanying person, journalists and tour guides with pass, ICOM members and military personnel on duty.

The ticket includes the exhibition "Stars without a sky. The children in the SHOAH"
Free
Up to age 6
Disabled persons with one accompanying person
Tourist guides
Journalists
Conscripts