Excursion by motorboat in the Valli di Comacchio
A boat trip on the calm waters of the lagoons, where the salt water of the sea and the fresh water ofthe river is intermixed, is a truly unforgettable experience.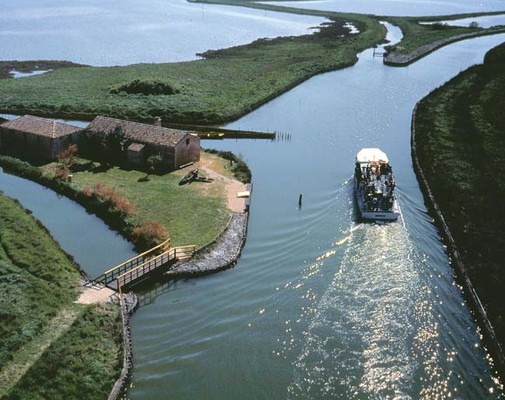 The rhythm is slow, our journeyaccompanied by the circling of the numerous species of birds which populate this area. The visitincludes a stop in the old fishermen's buildings, now transformed into authentic museums whosefurnishings and equipment recount the daily life of those who dedicated themselves to fishing, especially fishing for eels.
Departures from Stazione Foce
23/03 - 07/06 and 07/09 - 01/11
Every day at 11am and 3pm
08/06 - 06/09
Monday, Tuesday, Thursday and Friday at 11am and 6pm
Wednesday, Saturday, Sunday and holidays at 11am, 4pm and 6pm
08/11 - 06/01/2021
Sunday and holidays at 11.30am
Reservations recommended
Hiking in the salt flats
Guided tours for groups, by appointment.
Information and reservations:
+39 0533 81302
+39 346 5926555
info@podeltatourism.it

Ristorante Bettolino di Foce (seafood and eel menu).
How to get to STAZIONE CASONE FOCE
By tourist coach from Comacchio go to Ostellato direction, after a few km turn right following the sign " Percorso Storico Naturalistico Valli di Comacchio".
By car from Comacchio cross the San Pietro bridge and drive along the bank of the Fattibello Valley; follow the sign " Percorso Storico Naturalistico Valli di Comacchio".
last modified

Mar 12, 2020 04:43