Train excursions accompanied by Salina staff
Guided tours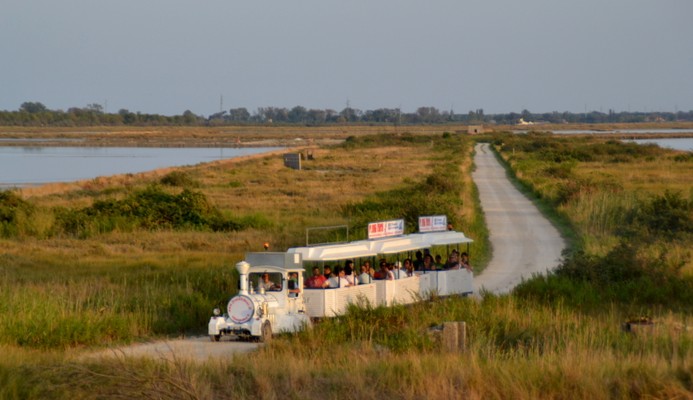 Guided tour to discover the history and the ecosystem of the Comacchio Salina: a precious treasure chest, custodian of testimonies of a distant and recent past, where you can still perceive the vastness of the valleys, the hard work of the salters and where you immerse yourself in a Nature that charms.
Where
Punto di incontro presso il cancello d'ingresso della Salina, raggiungibile dalla Strada Romea dopo la rotatoria del Lido degli Estensi (Via delle Saline)
When
April, 11th, 13th, 25th; May, 1st, 2nd; June, 2nd, 13th, 20th
Opening
April, 11th, 13th, 25th; May, 1st, 2nd - 9.30 am and 3.00 pm
June, 2nd, 13th, 20th - 9.30 am

Price
Cost: € 8.00 adults - Free for school children, children 0-3 years and the differently abled - Reduced € 6.00 for children from 3 to 13 years and for those over 65
Entrance gate meeting point reachable from the Strada Romea at the Lido degli Estensi roundabout; open during posted hours and days selected in advance.
Organized groups, accompanied by Salina staff, may also possible enter on other dates.
For info and reservations or to consult all dates when open: www.salinadicomacchio.it - cea@cadf.it
Information office
Ufficio Informazione e Accoglienza Turistica di Comacchio
Via Agatopisto, 2/a c/o Settecentesco Ospedale degli Infermi

0533 314154

0533 319278

comacchio.iat@comune.comacchio.fe.it

http://www.turismocomacchio.it