Thermae Oasis - Centro Termale e Benessere
Spas
The new beauty and thermal centre, combining the ancient conception of hydrotherapy with the modern technologies. Antistress massages, Hot Stone Therapy, chromotherapy baths with essential oils, mud-thalassotherapy, thermal baths, hydromassage, cave-steam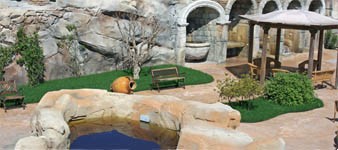 In the heart of Comacchio's lagoons, a few steps from the sea, is the Thermae Oasis, a spa with a National Health Service agreement for treatments that include inhalation or mud therapies, balneotherapy as well as vascular diseases, rhinogenic deafness, and pulmonary ventilation.
The center also has an agreement with INAIL with regard to rehabilitation.
The Wellness Gardens, the spa's pride and joy, offer thermal hydrotherapy in surroundings with heated rocks, cool waterfalls, and the revitalizing steam of its thermal waters. The grotto's detoxifying steam and the whirlpool's benefits can truly regenerate the body and mind. The SPA & Beauty package offers exclusive Ayurvedic face-body readjustments, Asian massages, drainage baths with color therapy, and traditional perfumes. Thermae Oasis and the Terme di Comacchio are connected to the Tahiti Camping & Thermae Bungalow Park.
Opening
2021 Opening
From 3 May to 30 October, Monday to Saturday from 8 am to 6 pm.
The Wellness Gardens: consult the timetables on the website www.thermaeoasis.com
Contacts
Lido delle Nazioni
-
Viale Libia, 133

0533 399706

0533 398182

info@thermaeoasis.com

http://www.thermaeoasis.com
last modified

Jul 12, 2021 10:47