Abbey of Pomposa
A masterpiece of Romanesque art, Pomposa Abbey can be seen from a distance with its towering campanile, which dominates the surrounding countryside like a "lighthouse" in the sea of green that surrounds it.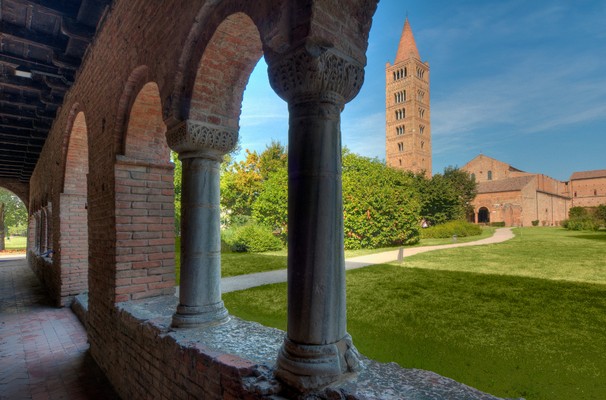 The church was founded in the 6th century A.D. and from the middle of the 9th century the first community of Benedictine monks began to form, reaching its peak after the year 1000, when the Abbot's spiritual and political jurisdiction extended over all the surrounding villages. A true lighthouse of culture, Pomposa had one of the most extensive libraries of the time. Among the personalities that made it so famous were the saint and abbot Guido degli Strambiati and Guido da Pomposa (known by the name of Guido d'Arezzo), inventor of the modern musical notation. In front there is the Palazzo della Ragione, from which the abbot administered justice in his feuds. As the building did not have religious functions, it was detached from the others.
PAGES FROM THE GUIDE INTERIOR AND EXTERIOR >>
Visit to the bell tower
The bell tower is open to the public only on certain periods: In September 2015, every Saturday and Sunday 10.00 - 12.45; 15.30 - 18.00. Donations are welcome.
Related documents
Opening
The complex: 8.30-19.00.
Church open every day.
The museum: closed on Monday.

September 12th and 19th: late opening until 23.30
Price
Full price € 5,00. Sundays and Holidays admission free in the church. Rest of the complex: € 3,00.
Reduced (visitors aged 18 - 25): € 2,50 church, € 1,50 rest of the complex.

Free Entrance the first Sunday of each Month
Contacts

http://www.abbaziadipomposa.it
Information office
Ufficio Informazione e Accoglienza Turistica di Codigoro - Abbazia di Pomposa

0533 719110

0533 719110

iat.pomposa@comune.codigoro.fe.it
How to get here
By car: A13 motorway, exit Ferrara Sud; take the motorway Ferrara- Porto Garibaldi; at the end of the road turn left (SS Romea) direction Venice. Straight on for 16 km.
By train and bicycle: from Ferrara to Codigoro station (Ferrovie Padane), about 5 km bike.
By bus: Atc line 600 Ferrara-Codigoro; Atc line 1700 Ravenna-Codigoro. From codigoro station to the abbey with taxibus line 8.
last modified

May 02, 2019 01:42