Concert Season 2019/2020
Music
The program 2019-2020 of the Concert Season of Ferrara Musica proposes nine months of appointments in the sign of the 250th anniversary of Ludwig van Beethoven and the great orchestras of Claudio Abbado, together with a lot of chamber music and piano concerts of great interest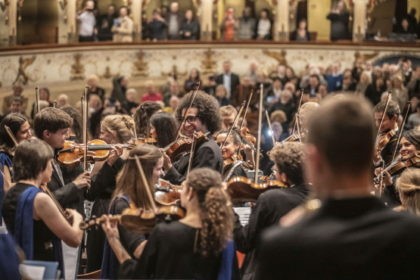 Timetable
Saturday 21 September 2019 at 20:30
EUYO CHAMBER ENSEMBLE I
Mozart String Quintet in G minor K. 516
Ligeti Six Bagatelles for Wind Quintet
Webern Six Bagatelles for String Quartet op. 11
Mahler First Symphony (transcription by Iain Farrington)
Thursday 26 September 2019 at 20:30
EUYO CHAMBER ENSEMBLE II
ANTTI TIKKANEN conductor
Telemann Concert for four violins n. 2 in D major
Händel Concerto grosso op. 3 n. 2 in B flat major
Telemann Concert for four violins n. 1 in G major
Corelli Concerto grosso op. 6 n. 4
Vivaldi Four Seasons ("re-composition" by Max Richter)
Wednesday 16 October 2019 at 20:30
LE CONCERT DES NATIONS
JORDI SAVALL conductor
Ludwig van Beethoven
Symphony n. 3 op. 55 "Eroica"
Symphony n. 5 op. 67
Monday 28 October 2019 at 20:30
ARCHOS QUARTET
Filip Jeska Violin; Mikołaj Pokora Violin; 
Radenko Kostadinov Viola;
Francesca Fiore Cello
Brahms Quartet op. 51 n. 2
Sinigaglia Variations on a Brahms theme
Sinigaglia Quartet op. 27 in D major
under the patronage of Museum Italian Judaism and the Shoah
SOL GABETTA Cello
NELSON GOERNER Piano
Wednesday 06 November 2019 at 20:30
Teatro Comunale "Claudio Abbado"
Schubert Sonatina n. 1 op. 137 D. 384 (transcription Sol Gabetta)
Brahms Sonata n. 1 in G major op. 78
Franck Sonata in A major (1886)
Monday 11 November 2019 at 20:30
LORENZA BORRANI Violin
ALEXANDER LONQUICH Piano
Schubert Sonata n. 4 op. 162 D. 574
Janacek Sonata for violin and piano
Schumann Sonata n. 2 "Grosse Sonate" op. 121
Monday 18 November 2019 at 20:30
LAUTER PROJECT
STEPHEN WAARTS, NICOLA BRUZZO Violins
KAROLINA ERRERA Viola; 
ALEXEY STADLER Cello;
GABRIELE CARCANO Piano
Beethoven Sonata n. 21 op 53 "Waldstein"
Beethoven Trio op. 11 "Gassenhauer"
Šostakovič Quintet op. 57
Tuesday 10 December 2019 at 19:30
RAVEL MARATHON
ALEXANDER MADŽAR Piano
Ravel
Pavane, Sonatine, Gaspard de la nuit, Miroirs, Le Tombeau de Couperin, La Valse, Valses nobles et sentimentales
Tuesday 11 February 2020 at 20:30
MARIANGELA VACATELLO Piano
Ligeti Musica ricercata
Bach Passacaglia in C minor BWV 582
Scriabin Sonata n. 4 op. 30
Chopin Sonata n. 3 op. 58
Sunday 23 February 2020 at 11:00
CHAMBER ORCHESTRA OF EUROPE
MATTHIAS PINTSCHER conductor
EMANUEL AX piano
Fauré Masques et bergamasques op. 112
Mozart Concert for piano and orchestra K. 466
Chopin Andante spianato e Grande Polacca brillante op. 22
Stravinsky Suite from Pulcinella
Wednesday 04 March 2020 at 20:30
MAHLER CHAMBER ORCHESTRA
DANIEL HARDING conductor
MATTHIAS GOERNE baritone
Beethoven Große Fuge
Schubert selection from Lieder for baritone and orchestra
Mozart Symphony n. 38 "Praga"
Sunday 08 March 2020 at 16:00
CONCERT FOR HAMLET
FABRIZIO GIFUNI Reciting voice
MITTELEUROPA ORCHESTRA
RINO MARRONE conductor and musical consultant
Dramaturgy by Fabrizio Gifuni from Shakespeare's Hamlet
Dmitrij Šostakovič
Scene music for Hamlet by Nikolai Akimov op. 32
Music for the movie "Hamlet" by Grigori Kozintsev op. 116
Tuesday 10 March 2020 at 20:30
ALEXANDER MALOFEEV Piano
Brahms Four Klavierstücke op. 119
Schumann Etudes symphoniques for piano op. 13
Čajkovskij The Seasons op. 37a
Saturday 28 March 2020 at 20:30
EUYO BRASS AND PERCUSSION ENSEMBLE
Bach Brandenburg concert n. 2 (arr. Chris Mowat)
Leonard Bernstein Suite from West Side Story (arr. Eric Crees)
Lecuona Malagueña
Monday 30 March 2020 at 20:30
BOZEN AND TRENT HAYDN ORCHESTRA
ARVO VOLMER conductor
KRISTÓF BARÁTI violin
Beethoven Concert for violin orchestra op. 61
Beethoven Symphony n. 2 op. 36
Sunday 05 April 2020 at 11:00
EUROPEAN UNION YOUTH ORCHESTRA
VASILY PETRENKO conductor
TRULS MØRK cello
Beethoven Prometeo's creatures op. 43 - Ouverture and music for ballet
Schumann Concert for cello and orchestra in A minor op. 129
Debussy Prélude to l'après-midi d'un faune
Respighi Feste Romane
Thursday 09 April 2020 at 20:30
EUROPEAN UNION YOUTH ORCHESTRA
IVAN FISCHER conductor
CHRISTINA LANDSHAMER soprano
Beethoven Symphony n. 4
Mahler Symphony n. 4
Friday 08 May 2020 at 19:30
BEETHOVEN MARATHON
MANTUA CHAMBER ORCHESTRA
ALEXANDER LONQUICH Piano and conductor
Beethoven Complete piano and orchestra concerts
Where
Ferrara - Teatro Comunale, Corso Martiri della Libertà, 5
When
September, 21st, 2019 – May 8th, 2020
Opening
8,30 pm, when not otherwise stated
Contacts
Biglietteria Teatro Comunale di Ferrara "Claudio Abbado" - Corso Martiri della Libertà 5
0532 202675
0532 206007
biglietteria.teatro@comune.fe.it