Concert Season 2019/2020
Music
All the concerts scheduled are interrupted until further notice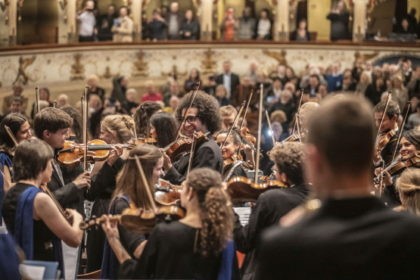 Il programma 2019-2020 della stagione concertistica di Ferrara Musica propone nove mesi di appuntamenti nel segno del 250 ° anniversario di Ludwig van Beethoven e delle grandi orchestre di Claudio Abbado, insieme a molta musica da camera e concerti di pianoforte di grande interesse
Timetable
Mercoledì 04 marzo 2020 alle 20:30
Selezione Schubert di Lieder per baritono e orchestra
Mozart Symphony n.
38 "Praga"
Domenica 08 marzo 2020 alle 16:00
FABRIZIO GIFUNI Voce recitante
RINO MARRONE direttore e consulente musicale
Drammaturgia di Fabrizio Gifuni dall'Amleto di Shakespeare
Musica di scena per Amleto di Nikolai Akimov op.
32
Musica per il film "Amleto" di Grigori Kozintsev op.
116
Martedì 10 marzo 2020 alle 20:30
ALEXANDER MALOFEEV Piano
Brahms Four Klavierstücke op. 119
Schumann Etudes symphoniques for piano op. 13
Čajkovskij The Seasons op. 37a
Saturday 28 March 2020 at 20:30
EUYO BRASS AND PERCUSSION ENSEMBLE
Bach Brandenburg concert n. 2 (arr. Chris Mowat)
Leonard Bernstein Suite from West Side Story (arr. Eric Crees)
Lecuona Malagueña
Monday 30 March 2020 at 20:30
BOZEN AND TRENT HAYDN ORCHESTRA
ARVO VOLMER conductor
KRISTÓF BARÁTI violin
Beethoven Concert for violin orchestra op. 61
Beethoven Symphony n. 2 op. 36
Sunday 05 April 2020 at 11:00
EUROPEAN UNION YOUTH ORCHESTRA
VASILY PETRENKO conductor
TRULS MØRK cello
Beethoven Prometeo's creatures op. 43 - Ouverture and music for ballet
Schumann Concert for cello and orchestra in A minor op. 129
Debussy Prélude to l'après-midi d'un faune
Respighi Feste Romane
Thursday 09 April 2020 at 20:30
EUROPEAN UNION YOUTH ORCHESTRA
IVAN FISCHER conductor
CHRISTINA LANDSHAMER soprano
Sinfonia di Beethoven n.
4
Venerdì 08 maggio 2020 alle 19:30
ORCHESTRA DA CAMERA DI MANTOVA
ALEXANDER LONQUICH Pianoforte e direttore
Beethoven Concerti completi di pianoforte e orchestra
Where
Ferrara - Teatro Comunale, Corso Martiri della Libertà, 5
When
21 settembre 2019 - 8 maggio 2020
Opening
8,30 pm, when not otherwise stated
Contacts
Biglietteria Teatro Comunale di Ferrara "Claudio Abbado" - Corso Martiri della Libertà 5
0532 202675
0532 206007
biglietteria.teatro@comune.fe.it