Bertuzzi Lagoon
It is one of the most humid and charming areas of the Po Delta Park. It has a surface of approximately 2,000 hectares and it is made up of three lagoon basins, Valle Nuova, Valle Bertuzzi and Val Cantone.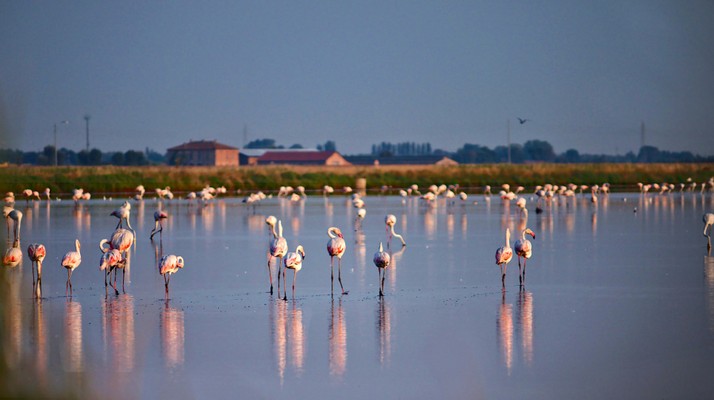 It is a private fishing area (one can notice the casoni of Valle Nuova and Val Cantone). The vegetation includes mostly reeds and halophytes. In the middle between Valle Nuova and Valle Bertuzzi there is a small holm oak forest, where cormorants and little egrets nest. Among the birds one can admire herons, grebes, mud-dwellers, sea gulls, anatids and rails. Since the water is very salty, pink flamingoes stop here especially during summer. Among fish species, we find grey mullets, eels and sea basses. Visitors can see the lagoon only from the outside, from the Acciaioli road that divides it from the Nazioni Lake.
Opening
The lagoon is not accessible inside and can be observed only from the panoramic road Acciaioli .
How to get here
Provincial road Acciaioli from Porto Garibaldi: the road runs along the lagoon for about 3 km.
By car or bicycle: from Statale Romea, at Passo Pomposa take the Provincial road Pomposa - Volano SP 54, to Lido di Volano.
At the lido take the provincial road Acciaioli. During this journey you can admire the most beautiful part of the valley.
A: 44° 49 23 N - 12° 10 41 E
B: 44° 45 52 N - 12° 13 43 E

last modified

Mar 12, 2020 12:35