Ancient Delta Museum
In Antico Ospedale degli Infermi is the new Ancient Delta Museum, which today houses the entire cargo of a Roman ship discovered near Comacchio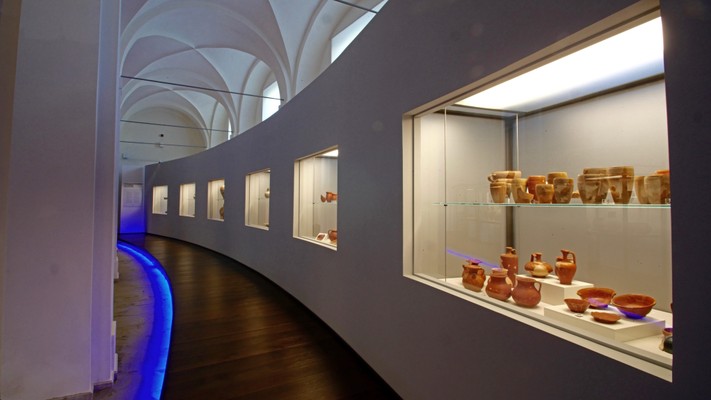 In line with the latest guidance, the museum is temporarily closed until December, 3rd.
The new Ancient Delta Museum illustrates the centuries-long evolution of the area and of the human settlements typical of the ancient Po Delta.
It is organized into sections corresponding to different historical periods, ranging from the earliest traces of civilizations up to the classical Age. The section dedicated to the Etruscan city of Spina is particularly noteworthy, containing objects from the built-up area as well as
rich grave goods found in its tombs.
The precious cargo of Comacchio's Roman ship has been transferred in the museum. Dating from the early years of the Empire (late 1st century. B.C.), this veritable marine Pompeii was rediscovered in 1981.
Opening
March to June - September and October
Open Tuesday to Sunday from 9.30 am to 1.00 pm and from 3.00 pm to 6.30 pm
July and August
Open all day from 9.30 am to 1.00 pm and from 3.00 pm to 6.30 pm.
November to February
From Tuesday to Saturday: 9.30 am - 1.00 pm and 2.30 pm - 6.00 pm
Sundays and holidays: 10.00 am - 5.00 pm
Free
Up to age 11 (with parents)
Conscripts
Tourist guides
Journalists
Information office
Ufficio Informazione e Accoglienza Turistica di Comacchio
Via Agatopisto, 2/a c/o Settecentesco Ospedale degli Infermi

0533 314154
0533 319278

comacchio.iat@comune.comacchio.fe.it

http://www.turismocomacchio.it
last modified

Apr 25, 2021 05:51