Ballooning in Ferrara
Sports and games
In Ferrara you may go in balloon all the year round!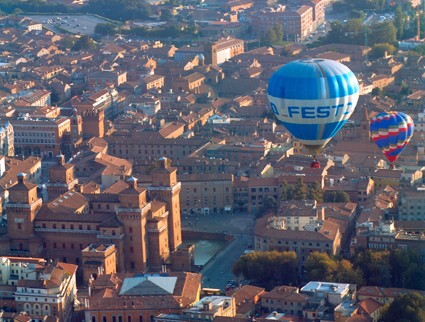 Ferrara will make you dream with its history and traditions, but most of all it will make you fly!
Planned departures every first Sunday of the month and at the end of the sky-tour, you will be offered an invigorating and delicious breakfast!
Timetable
Meeting at 6:00 am to attend to the inflation of the balloon before the take-off.
Confortable clothes and shoes are suggested.

Duration of the flight around one hour. Then the landing will occur in a flat and safe area chosen by the pilot. Breakfast after landing. Here a crew will bring the passengers back to the departure's place. Chance to go back by your own bike, which would be previously charged by the crew. 

The duration of the whole procedures from the inflation of the balloon, the flight, the landing and the transport is around 3 hours.
When
Departures every first Sunday of the month
Opening
Meeting at 6.00 am
Contacts
Link Tours - Via Garibaldi 103

0532 201365
0532 247602

contatti@linktours.com