Birdwatching at the Lighthouse
The mysterious Delta waterways: Excursions organised by Navi del Delta Consortium in the Po Delta and in the Comacchio Lagoons.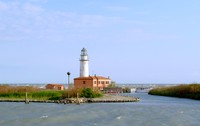 From March 31st to November 3rd 2012
Imbarco: Porto di Gorino – Attracco Motoscafo Alessio
A delightful excursion onboard motorboat Alessio into the dense reed-thicket wetland oasis near Gorino Lighthouse (the area is called Mezzanino Oasis), a paradise for its biodiversity. An area beyond reach by other means and a must for nature lovers. On this trip you'll have many chances to observe some rare marine birds in their natural habitat.
Duration: 2 hours. Departure guaranteed – Booking required
Opening
All Saturdays from 31 March to 02 June and from 8 September to 03 November; Monday 30 April– at 2.30 pm.
All Saturdays from 09 June to 01 September – at 5.00 pm.
Price
euro 17.00 adults; euro 10.00 children aged 4 to 10. Children under 4 free
Contacts
Po Delta Tourism - Corso Mazzini, 136 44022 Comacchio (FE)

0533/81302 - 346 5926555
info@podeltatourism.it
Information office
Tourist Information Office of Comacchio

0533 314154

0533 319278
comacchio.iat@comune.comacchio.fe.it

http://www.turismocomacchio.it
last modified

Apr 08, 2013 11:53