Internet Wi-Fe
The public Wi-Fi net Ferrara
Ferrara Wi-Fe is a free internet access service available in main areas of Ferrara via Wi-Fi: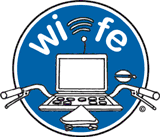 -Piazza Municipale
- Piazza Savonarola, Corso Martiri della Libertà, Piazza Trento e Trieste
- Piazza Castello, Largo Castello, Piazza della Repubblica
- Giardino delle Duchesse
- Cortile interno del Castello Estense – Castello Estense courtyard
- Piazza XXIV Maggio
- Stazione Ferroviaria – Railway Station
- Giardini del Grattacielo – Park near Skyscraper (bonus time area)
- Parco Urbano "Giorgio Bassani" – Park "Giorgio Bassani"
- Piazza Ariostea (sponsored by CaRiFe)
- Piscina Comunale via Beethoven – Swimming Pool via Beethoven (sponsored by CaRiFe)
You must be 18 and show a valid I.D..
Subscribe and get your 90 minutes/day free access. A valid userid and a valid first-login password will be provided. Due to current Italian law, userid and password are strictly personal and the owner is responsible of any illegal use of it.
You can subscribe at:
URP Informacittà -Via degli Spadari, 2/2 - FerraraTel: 0532/419770 Phone: +39-(0)532-419770
Informagiovani -P.zza del Municipio, 23 - Ferrara Tel: 0532/419590 Phone: +39-(0)532-419590
Ufficio Informazioni e Accoglienza Turistica -Castello Estense - Ferrara Tel: 0532/209370 Phone: +39-(0)532-209370.
last modified

Dec 20, 2012 04:43