Events

Until May 26, 2013
Ferrara
A month of celebrations, parades, flag-throwing competitions and a spectacular horse race in Piazza Ariostea
Until Dec 27, 2013
Ferrara
Natural fresh products from our countryside.
Until Jun 30, 2013
Ferrara
At the National Archaeological Museum, a new exhibition is on schedule, "Love in the time of war", organized by caterina Cornelio and Mario Cesarano at the noble floor of the museum.
------------------------------------------------------------------------------------------
news and main events

Until May 26, 2013
Ferrara
A month of celebrations, parades, flag-throwing competitions and a spectacular horse race in Piazza Ariostea
Until Jul 26, 2013
Ferrara
Ferrara sotto le Stelle is renown as one of the most qualified summer festival in Italy, with prestigious names and talented young artists.
Until Jun 09, 2013
Ferrara
The exhibition follows the creative path of Michelangelo Antonioni, one of the fathers of modern cinema.
------------------------------------------------------------------------------------------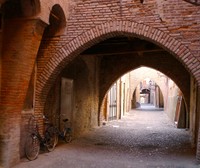 From the Middle Ages to today, the area around the Cathedral has always been the focus of the city life.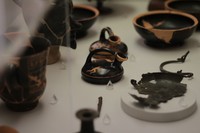 The museum, housed on the first floor of the Palazzo Costabili, exhibits the findings of the Etruscan city of Spina...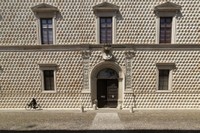 The magnificent Palazzo dei Diamanti, at the centre of the Addizione Erculea, on the important crossroads known as the Quadrivio degli Angeli belonged to the duke's brother Sigismondo d'Este.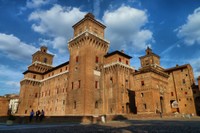 In Ferrara in 1385, a dangerous revolt convinced Niccolò II d'Este of the need to erect mighty defences for himself and his family thus the Castello di San Michele was built, a fortress erected against the people.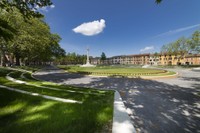 This very special oval piazza set below ground level and also famous for the races of the Palio, is the work of the architect Biagio Rossetti.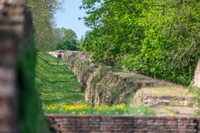 The ancient Walls of Ferrara encircle the historic centre almost without interruption for nine kilometres, constituting one of the oldest and most impressive...
Tourist Office of Ferrara

Estense Castle, 1

Hours
Weekdays: 9.00-13.00 / 14.00-18.00.

Holidays: 9.30-13.00 / 14.00-17.00.

Contacts

tel. 0532 209370 / 299303

fax 0532 212266

 

Choose among hotels, B&B, guest houses, holiday farms, hostels, camping sites, residences, tourist villages, houses and apartments, apartments for tourist use.

Choose among restaurants, pizzerias, holiday farms, wine bars and taverns, fast food restaurants, sandwich shops, self service restaurants.
last modified

Sep 12, 2012 01:28