Nordic Walking Experience
The mysterious Delta waterways: Excursions organised by Navi del Delta Consortium in the Po Delta and in the Comacchio Lagoons.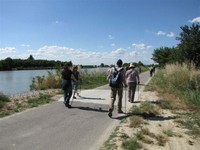 From 22 May to 18 September, all Tuesdays
Lido di Spina, davanti Bagno n° 63 Le Piramidi - Comacchio, via Trepponti fermata bus bar Il Chiosco
You will know a different way to make a healthy sport without risks, recommended to all, to children and adults. Walk with us in the most striking  places of  Po Delta Park to share with the emotions of nature, the contact with the land and water, elements that characterize these places.
Duration: 1,5 hours - Departure guaranteed with 2 persons minimum.
Booking required.
Price
Euro 20,00 adults; euro 14,00 children aged 4-10.
Contacts
Po Delta Tourism - Corso Mazzini, 136 44022 Comacchio (FE)

0533/81302 - 346 5926555

info@podeltatourism.it
last modified

Apr 10, 2013 04:12