Dreams on the water
The mysterious Delta waterways: Excursions organised by Navi del Delta Consortium in the Po Delta and in the Comacchio Lagoons.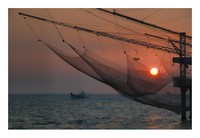 From August 3rd to 31st 2012
Imbarco: Porto Garibaldi – Attracco M/N Delfinus e M/N Dalì
In the suggestive frame of the lagoons at sunset, you will be served a delicious fish based dinner inclusive of our local wines called "Vini delle Sabbie" which will be selected from the highest reputed wine-shops of the area and which will be presented to you by wine-making experts. Duration: 3 / 3,5 hours. Booking required.
Opening
All Fridays in August – at 7.00 pm.
Price
Euro 37.00 adults; euro 15.00 children aged 4-10. Children under 4 free.
Contacts
Po Delta Tourism - Corso Mazzini, 136 44022 Comacchio (FE)
0533/81302 - 346 5926555

info@podeltatourism.it
Information office
Tourist Information Office of Comacchio
0533 314154
0533 319278

comacchio.iat@comune.comacchio.fe.it

http://www.turismocomacchio.it
last modified

Apr 10, 2013 04:00