Events
On Aug 14, 2015
Comacchio
Every year, for longer than anyone can remember, summer is celebrated on the eve of Ferragosto.
Until Oct 04, 2015
Ferrara
A series of free lectures and meetings held by journalists and authors from all over the world
Until Oct 11, 2015
Comacchio
Tastings of dishes featuring the eel and the fish of sea and lagoon, exhibition stands of typical products and crafts, music, street animation.
------------------------------------------------------------------------------------------
Aug 13, 2014
Until Dec 31, 2016
Ferrara
The Estense Castle hosts a selection of works of art by Giovanni Boldini e Filippo de Pisis, two of the most representative artists of the last two Centuries.
Aug 08, 2012
Until Aug 23, 2015
Cento
Gastronomic Festival
Aug 08, 2012
Until Sep 27, 2015
Ferrara
Country Festival at Corlo, with many traditional dishes.
------------------------------------------------------------------------------------------
Buy MyFE Card online
MyFE is the tourist map of the city of Ferrara. It 'a tool that opens the door of the excellence of the city and allows you to discover its treasures. Choose which of the three types of cards (2 days, 3 days or 6 days) can satisfy most of your needs during your stay in Ferrara.
Powered by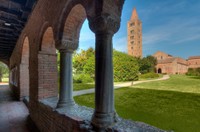 A masterpiece of Romanesque art, Pomposa Abbey can be seen from a distance with its towering campanile, which dominates the surrounding countryside like a "lighthouse" in the sea of green that surrounds it.

Lying in the middle of the Po Valley, Ferrara still has the atmosphere of the past, which blends in harmoniously with the lively atmosphere of the present.

Discover all the cycle routes "towards" "around" and "in" Ferrara, complete with descriptions, maps and technical notes.

One of the most important wetland zones in Europe and the largest in Italy, bringing together elements of biodiversity to make a paradise for naturalists.

All the products described faithfully respect local gastronomic traditions, recipes, curiosities...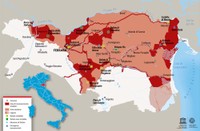 These monumental residences, once immersed in isolated countryside, surprise tourists. Once upon a time, they had a strategic role in the Estense government.
Choose among hotels, B&B, holiday farms, camp sites, residences, tourist villages, houses and apartments in the province.

Choose among restaurants, pizzerias, holiday farms, wine bars and taverns, in the province.
last modified

Jun 11, 2013 10:27